What Does Off-Grid Mean?
Off-grid or off-the-grid is a living or a lifestyle that does not rely on one or more public utilities. Traditionally, the term off-grid meant living disconnected from the national electrical grid. Nowadays, living without the internet and mobile connection is more and more referred to as being 'off-grid'.
Off-Grid Certification
Our Off-Grid certification is proof that a location is a notspot. This means that you will not get any signal from any of the UK's mobile operators. This also means no 2G, 3G, 4G, 5G, no calls and no mobile notifications.
*Some of these places might still have a landline of wifi available for those who prefer digital detox 'on demand'. But unless you opt-in for these services, you will be completely off-mobile-grid.
How do we know that a place is off-grid?
At FarrPoint, we invited the mobile coverage mapper device, which identifies mobile notspots when driven nearby. We've surveyed various locations across the UK and mapped the accommodation providers that have been certified.
Each accommodation provider that fits our not-spot criteria and is part of the programme, is issued with an off-grid certificate, sticker badge and is included in our off-grid map. You can apply for your certificate below.
Off-Grid accommodation map
Off-Grid locations are mapped below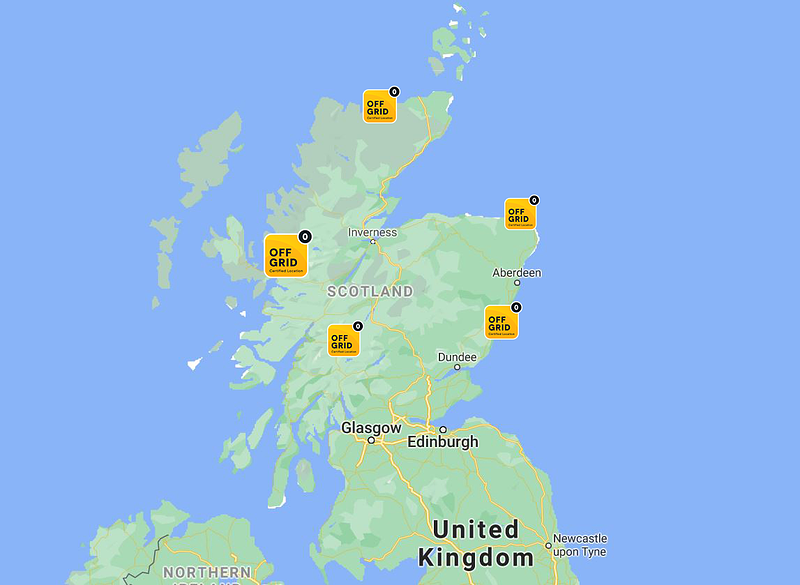 Certified Off-Grid Locations:
Location 1
Location name
Location 2
Location name
Apply for Your Off-Grid Certification Badge
For a place to be fully OFF GRID certified, it has to pass our survey and show no or a very weak signal on all UK mobile operators.
The certification fee starts at £250 + VAT. Email us at [email protected] to discuss.