From analogue telephone line and copper cable replacement to 2G and 3G network decommissioning, these switch-offs will affect millions of people across the UK.
Analogue Switch-Off

Telecom Providers in the UK are decommissioning their analogue services and are moving to fully digital networks. This means that analogue phone lines in residential and business premises are being replaced by digital equivalents. For householders, the change will usually only involve plugging their phone into their internet router instead of a wall socket. It's businesses who will feel the disruption more acutely, especially as the analogue switch-off won't just affect phones, but also equipment like fire and security alarms, traffic lights, boiler controls and car park barriers, to name but a few.

2G and 3G Network Sunset

In addition to the changes to the UK's fixed line network, the mobile networks are also changing. There are plans to decommission ("sunset") the older 2G and 3G networks. This is important for anyone with older mobile devices that only support 3G, as these will need to be replaced. But again, businesses need to take heed because of the other equipment they may be using that also connects to mobile networks – like security alarms and remote monitoring.

Copper Switch-Off

The copper switch-off is another programme of work and is the next step in the UK's move to a full fibre digital network. While the analogue switch-off will see every premise in the UK move to digital phone lines by 2025, many of these lines will still be delivered over existing copper connections. The copper switch-off will see these copper lines being replaced with fibre, providing higher levels of capacity and reliability. This will impact around 25 million premises in the UK, including any business whose network connections are supplied via copper cables. From local authorities, GP surgeries and care homes to pharmacies and hundreds of thousands of retail shops, all will have to switch to fibre or mobile.These changes are already happening, with copper cables being replaced as we speak. If you are a large organisation with multiple locations, it's important to know what sites rely on copper-based services, and what fibre-based alternatives you should be using.
New guide to help you navigate the changes
If you don't know the answers to how these changes will affect you and don't have a switch-off plan in place, FarrPoint can help. Its new comprehensive guide will help you navigate through the changes ahead.
Analogue Switch-Off Maps of the UK: Openreach and Virgin Media
We have also produced two interactive maps of the UK, with detailed information per council. They cover stop sell dates from Openreach and switch-off by dates by postcode for Virgin Media,
Openreach Map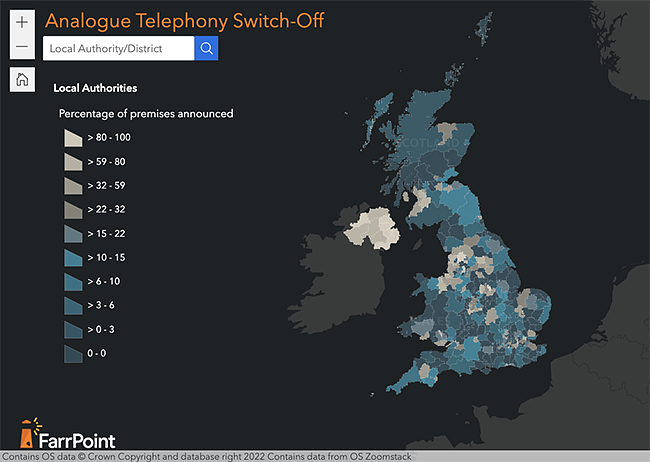 (this will open in a new window)View the map
Virgin Media Map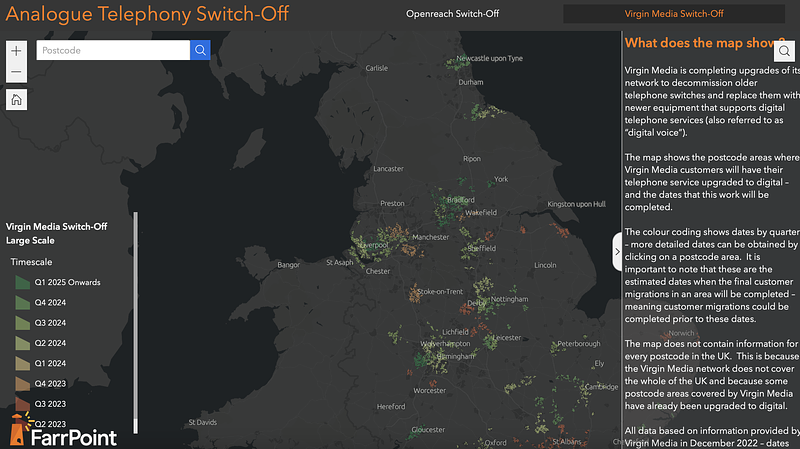 (this will open in a new window)View the map
There's not a one-size-fits-all approach to this, as each organisation's needs will be different. But one thing is for sure – these changes are coming, and companies need to be on the front foot, not just to avoid issues but to reap the benefits too.
If you need even more detailed advice, get in touch. We are an independent connectivity and smart technology consultancy – a friendly bunch that can provide advice on all aspects of the switch-offs.
Our consultants have extensive experience and specialise in a variety of different service areas. We will partner you with the best team of FarrPoint consultants to help you develop a plan as you prepare for the switch-offs.
Find out more
If you are interested in finding out more about how switch-offs might affect your organisation, please get in touch.