Internet access is a human right
Whether it's in the form of broadband or mobile coverage, connectivity is essential for our everyday lives. The United Nations even considers internet access as a human right.
There is a concentrated effort by the UK Government to improve connectivity infrastructure, particularly in rural communities. In the recent budget announcement, £5 billion was allocated to address gaps in high-speed broadband coverage across the country. In parallel, the Government has recently secured a deal with mobile operators to invest more than £500 million of government funding to eliminate mobile not-spots - areas with no mobile coverage - by 2025. This initiative is designed to facilitate economic growth in these rural communities, where connectivity is an essential piece of the puzzle.
However, it's not only rural areas that are prime for improved connectivity. Connectivity is an essential element of any redevelopment project across Britain's urban hubs too. Local Councils face the challenging task of addressing the declining footfall on the UK's high streets and encouraging constituents to be retained within town centres. Increasingly, residents and visitors expect to be able to connect for both business and social reasons. Whether this is to check the time of the next bus or to catch up on emails. The expectation is that people should be as well connected in the town centre as they would be in their home or office.
Understanding the level of existing connectivity in areas earmarked for construction and redevelopment can inform local authorities where to allocate their resources efficiently. Our industry-leading consultants have a proven track record in delivering connectivity strategies to local authorities and central government, demonstrating how they could build on their existing digital infrastructure. In addition, FarrPoint has designed an innovative Mobile Coverage Mapper that provides real-life performance statistics of all available mobile networks, enabling our Consultants to provide even deeper insight when conducting an independent assessment of any existing connectivity infrastructure.
What is FarrPoint's Mobile Coverage Mapper?
FarrPoint's Mobile Coverage Mapper is an autonomous network monitoring tool that provides real-life performance statistics of all available mobile networks. It does not require the expertise of engineers or technicians to man a vehicle with specialist equipment and can be controlled by our customers themselves. The Mapper comprises a small internal unit with magnetic antennas which are placed on the roof of a vehicle. The unit can be fitted into any vehicle and will measure the signal strength of all mobile networks simultaneously as it drives the route of interest. Clients have deployed the Mapper on refuse vehicles for example, which has the advantage of visiting every premise in an area within a relatively tight timescale. As the Mobile Coverage Mapper travels across a geographic location, it sends the performance data back to dedicated FarrPoint processing and mapping servers, enabling a true picture of mobile network performance to be built. Results may be viewed on our mapping portal, available through any Internet browser. FarrPoint's GIS experts produce world-class, bespoke interactive maps for our clients and can overlay a multitude of data points to build a holistic view of any survey area.
The Mapper has already been deployed across a number of public bodies within the UK that require the most accurate information on mobile connectivity.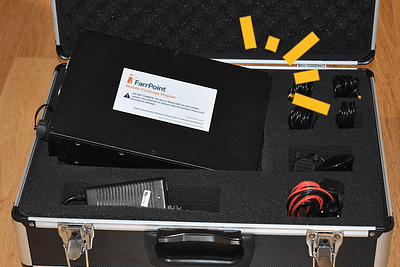 Why should you be mapping 4G coverage in urban areas?
Believe it or not, there are still unidentified coverage not-spots in urban centres and areas of weak signal. The coverage maps provided by the big four mobile operators are not always as they seem and only provide a desk-based prediction.
In an age where towns and cities are competing against each other for inward investment, it is essential that they have adequate infrastructure in place to meet businesses' modern-day requirements. No local authority wants to be left behind. A recent study by RootMetrics highlights the fastest internet download speeds across each of the 16 most populated metropolitan areas in the UK. Birmingham came out on top, but it didn't make the best reading for Newcastle, Leeds or Sheffield.
As well as identifying not-spots and areas of weak 4G coverage, our Mobile Coverage Mapper has aided with the identification of useful assets owned by our government clients when overlaying these data points on our coverage maps. By identifying these assets, it has enabled our clients to influence where potential infrastructure may be situated. In addition, it has also provided a commercial opportunity for our clients where their sought-after assets are in a high-demand area that suits third party interests too. The opportunity to turn dormant resources into revenue generating assets is welcome against a backdrop of budget cuts. Our mapping solution has also been used to advise on bids for government funding such as "Future High Streets Fund" to demonstrate informed use of any prospective investment.
Why should you be mapping 4G coverage in rural areas?
The most common use of mobile coverage monitoring in rural areas is to pinpoint not-spots for subsequent infill projects. The UK and Scottish Governments' ambitions are to make sure everyone in the UK has access to high-speed, reliable coverage. With the spotlight firmly on improving rural connectivity, there is a gaping opportunity to influence the coverage investment in rural areas. As such there's no better time to understand your existing connectivity infrastructure and identify opportunities to improve the digital capabilities of constituents and businesses.
Similarly to urban areas, mobile network operators are looking for a compelling reason to provide additional infrastructure. By overlaying the coverage maps with data points of the government-owned assets, such as vacant land, a stronger business case can be made for the introduction of infrastructure that will fit the identified need.
FarrPoint's work in rural communities
Our latest Mobile Coverage Mapper offering is just one of a number of examples where we have demonstrated our commitment to delivering improved connectivity to rural communities. Most recently, The Scottish 4G Infill Programme, managed by Scottish Futures Trust (SFT), delivered its first 4G mast in New Luce, Wigtownshire, an area with no mobile coverage from any of the four major mobile operators. FarrPoint assisted SFT by mapping existing coverage in a number of identified rural communities with the help of the company's extensive GIS and radio mapping expertise. From the detailed coverage mapping, consultants identified coverage gaps and how they related specifically to each of these communities. The further analysis pinpointed potential sites for masts that would make an optimal impact, covering the most premises and geographic area.
In addition, FarrPoint has recently been appointed to support Scottish Futures Trust in the delivery of keys areas of the Scottish Government's 5G strategy. Some of these elements include how technology can positively impact remote and rural geographies. The challenge is to identify the use cases to attract investment and our consultants have completed research into a number of areas including IoT use cases, the effect of 5G on climate change targets, and how public bodies can help lower barriers to 5G investments.
Do you need advice on Mobile Coverage Mapping?
If you're curious about how our independent Mobile Coverage Mapper could assist your organisation, get in touch today. We'd love to show you a demo and how our mapping systems work.
FarrPoint has:
• Advised on over £2bn invested in digital connectivity
• Enabled Superfast Broadband in 250 towns & villages across the Highlands & Islands
• Delivered next-generation access to 1 in 4 Scottish homes (750,000 properties)
• Advised on the UK's first analogue to digital Telecare solution - 175,000 users across Scotland