A quick Q&A chat with Andrew
It is time for the next "Meet a FarrPointer" and FarrPoint's Anna Fearon interviewed FarrPoint founder and CEO (this will open in a new window)Andrew Muir.
Andrew Muir - CEO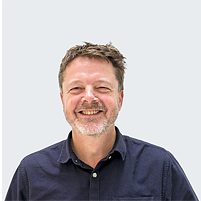 1. You are the CEO and one of the founders of a Connectivity Consultancy. How did you get here?
I think I was always attracted to being my own boss and being able to steer things in a way I thought was good. Even from childhood, I was not great with being told what to do, so it definitely pushed me in this direction!
The company I was at before FarrPoint was getting bigger and bigger. I was managing my own team but it felt like the focus was more on projects that generated money, and we were left a bit detached and to just get the job done. I really wanted to work in an environment where quality was championed rather than just a scale. I always knew I wanted to set up my own consultancy, so I just thought to myself, "if not now, then when?".
So, alongside (this will open in a new window)Calum Lamont and (this will open in a new window)Richard Parkinson, we decided to set up FarrPoint. I'm unsure if I would have done it entirely on my own, and I am really glad we had that team support during this time. To be honest it wasn't well planned; we weren't slick about it or very organised. The mentality was, "It can't be that hard; let's just give it a go." Turns out it is quite hard! But back then we weren't worried as long as we could pay the mortgage and eat. However, things got a bit more serious when we recruited our first hire as we realised someone was now relying on us, someone else's mortgages and kids, and that is when it felt very real.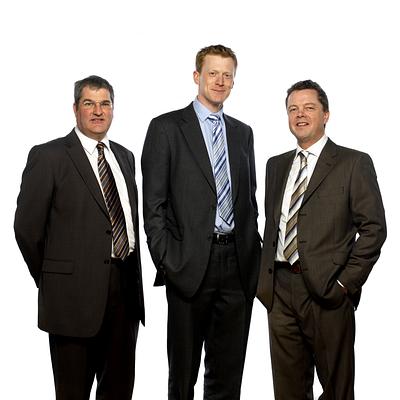 Photo of Calum, Richard and Andrew in 2015.
Since then, we have maintained steady, quality growth, and built up an excellent reputation which was so important to us. We didn't want to conquer the world in week 1, buy flash cars and get bean bags for the office. A west highland upbringing of "don't get too big for your boots" was probably to blame. We also didn't want to bring on staff that weren't the right fit and fire people if things didn't work out. So we were, and continue to be, quite careful about how we grow the company.
We would always question, "are we good enough, could we have done things better" but by focusing on consistently delivering well and ensuring we feel we have done good work for our clients, we have now carved out an excellent name for ourselves within the industry. This has been supported by ensuring the people we employ are the correct fit, and they embody FarrPoint's ethos of going further for our clients. Although that in itself paces us, meaning it is tougher to recruit we have kept the quality of work and good team spirit. We say projects are more than just work – they really do mean something to us.
2. What FarrPoint project are you most proud of?
I am proud when we can see we are contributing to improving people's lives through connectivity, projects where we can see we make a difference to the end beneficiary.
For example, we were working on a rural connectivity project where one of the main issues was that kids couldn't do their homework at home as a result of poor connectivity. The project we worked on provided connectivity to these isolated families and changed their lives. These projects are close to my heart because I think of my kids and how it would have benefited them. Growing up, they had crappy connectivity, which I thought made things unfair for them. They had a nice view of sea and hills but as they say, you can't live of a view. So yes, these transformational projects are the ones that mean the most.
3. What does a typical weekend look like for Andrew?
My typical weekend is a good walk up the hills with the dog, a ride into the sticks on my motorbike, some cooking, plenty shed time. I like to step away from technology, enjoy minimal computer time and get out and about, basically the opposite of a weekday. Anything physical is good!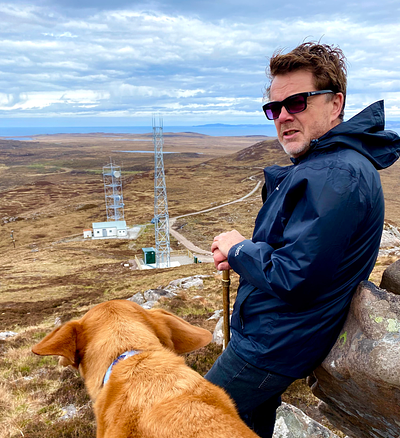 Andrew walking his dog Sam checking out a macro cell site. Very on brand!
4. What is your favourite place in the world and why?
I thought about this question a few weeks ago when another FarrPointer was asked it in their interview. It got me thinking about my answer, and I decided I have two, well technically, it is two places both in the same community: my home community of Achiltibuie in the North West of Scotland.
The first is called (this will open in a new window)Badentarbet, a specific spot in the community where I was brought up, in a house right on the shore. Our family had the salmon fishing station there and I have so many nice memories of my time there.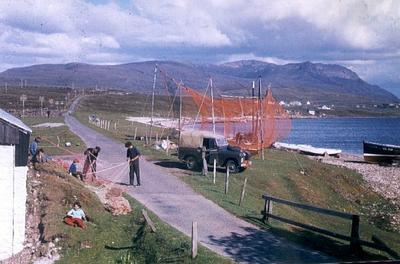 Andrew as a wee boy sliding down the bank into a fishing net.
The second place is a naturally sheltered harbour where we kept the boats called (this will open in a new window)Old Dornie. This place brings back many memories of fishing, parties, laughs and fantastic fun as a child and an adult.
There are many locations you go to in the world, and you think, "yeah, this is cool", but I get a strong feeling when I visit these two places, remembering all the history and memories they hold for me, which has got to mean something.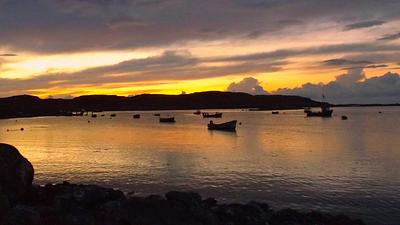 Photo of Old Dornie, photo credit (this will open in a new window)Visit Coigach.
5. If you could have a superpower, what would you choose?
It could be time travel, as I like the idea of being able to pause, slightly rewind or fast-forward time. But I realise it could complicate things; going back and forth and changing things could get messy.
Maybe to be invisible, but then you have the hassle of people sitting on you or bumping into you, so this would depend if I could turn it on and off and remembered to.
I also like the idea of self-healing, I have a sore leg at the moment, and it would be great to fix it myself. But this would also depend on whether you could still feel the pain which is the sore bit after all.
Having a superpower memory would be great because its annoying not remembering things, but then again there is lots of stuff you might not want to remember, so that is hard.
I would like to test out each of the above superpowers and then decide; most have pros and cons, so I would need a test run to determine accurately. Like a consultant really, I'll do an options appraisal and a spreadsheet evaluation.
6. We hear that you volunteer with (this will open in a new window)Blood Bikes Scotland. How did you get into that?
I wanted to do my advanced motorcycling training to pick up some tips on how to ride better and be safer, and with that training, you can volunteer with the Blood Bikes. I thought this would be a great thing to do; you essentially support the NHS, saving them money and time. I also get to ride fancy motorbikes and feel that I am helping.
When I'm volunteering, people from the NHS and the public have been so friendly and thankful for my work, so it is very rewarding. It gives me an all-around good feeling, and I enjoy the riding. I usually do it a couple of times a month, in the evenings, for around four hours. I typically cover the Lothian area, in and around Edinburgh and out to the neighbouring hospitals and clinics carrying samples, meds, equipment typically.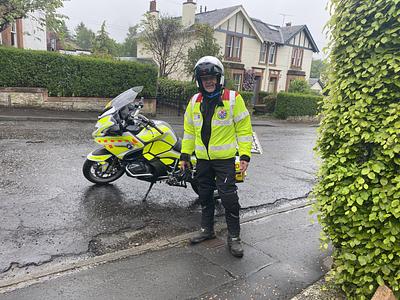 Photo of Andrew on a Blood Bike shift.
7. What would you choose as your last meal?
It would probably start with some oysters and then a mix of seafood consisting of brown crab, lobster, scallops, and prawns. All would be sourced from Achiltibuie and accompanied by a nice glass of white wine.
8. If you had a time machine, would you choose to go to the future or the past?
I think I would choose the past. I am interested in our family-tree, so I would like to retrace my parents' footsteps. I would follow my father's family and see how they ended up in Achiltibuie. My mother's family are from Germany, so I would like to trace her journey to Scotland. After seeing what it was like where they grew up, and I'd then go back to my grandparents, great-grandparents and so on until I felt that was enough.
9. How would you describe yourself in one word? What would it be and why?
Puzzled – I am always puzzled. I am constantly questioning things, "Why is that? "How does that work" "Why do it that way?" I am puzzled in every aspect of life, people, work things etc. – it is exhausting! I don't like doing things the same way as everyone else or going down a path that is laid out. I would question, "why that way… what about that way?", if someone explains why then I would be, ok that makes sense and might choose that route, but I need information as to why I should choose that route. I think this does help me in my role as a consultant, questioning what our clients really want, what makes the most sense and evaluating what the best solution is. But probably a bit annoying outside work!
10. Who would you like to nominate for the next 'Meet a FarrPointer' interview?
Matthew.