Author: Darren Kilburn, Head of Policy and Economics
The conference
(this will open in a new window)The Canadian Telecoms Summit is a three-day conference with an interesting mix of speakers, panel sessions, and fireside chats - not to mention breaks. There is an unusually well-balanced split between the presentation side of the conference and the ability for people to get together and connect – hence the breaks.
The Net-Zero and Telecoms panel discussion
I participated in a panel session looking at the role of Telco suppliers and ESG – Environment, Social and Governance.
Speakers on the panel included: Moderator: (this will open in a new window)Jeff Jones, Journalist, Globe and Mail, (this will open in a new window)Jill Schnarr from TELUS, (this will open in a new window)Marie-Hélène Labrie from Cogeco, (this will open in a new window)Clayton Miller from Quantum Lifecycle Partners LP, (this will open in a new window)Jeanette Irekvist from Ericsson Canada, Ericsson and myself, (this will open in a new window)Darren Kilburn, from FarrPoint.

Image 1: List of the Environmental Sustainability Speakers. Credit: @CDN_tele
Much of the discussion centred on the role of Telcos and the environment with insightful questions from the chair, before moving on towards the end of the session to the 'S': Social, in the form of hiring practices and better reflecting society on the boards and SMT of businesses.
What struck me most about the CTS was the level of engagement. The speakers, as you might expect, were welcomed with respect and the follow up could be quite lively… perhaps more in the lobby than on the floor of the conference. Panellists and those taking questions came across as knowledgeable and passionate about their field.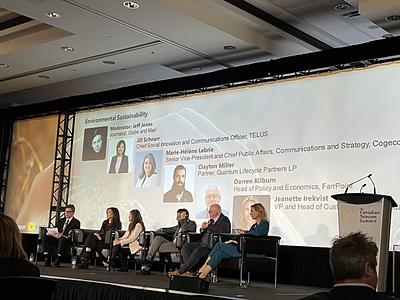 Image 2: Photo of the Environmental Sustainability Panel on stage. Credit: Joanne Soave
Digital Policy = Climate Policy
I recently lead a research exercise for a project for the government in Scotland and as a result looked at the issues that are underpinning the development of digital policy and strategy across the EU.  The same sets of issues come up time and again across the EU, and it was not different here in Canada:  deployment of, and access to, infrastructure, skills, and security/privacy. 
The recent independent report that we produced at FarrPoint - 'Digital Policies and Climate Change in Canada' - talks about the importance of digital technology and infrastructure in the path to Net Zero. It highlights the lack of specific digital policies aimed at climate action in Canada, the UK and across the G7. It can be downloaded below.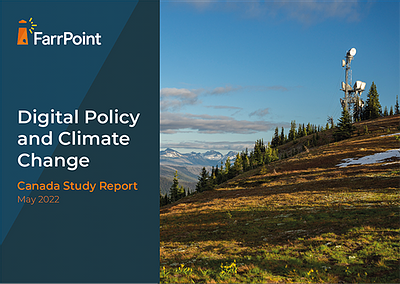 Lastly...
My message from the conference is that no matter where in the world we are, we are all dealing with the same issue; collaboration – even across the Atlantic – has never been more important to our industry if we are going to meet the economic, social, and ecological challenges we all face.
Get in touch
If you would like to hear more about the event or find out more about the report, please get in touch.