By Anna Fearon, Marketing Executive at FarrPoint
Flexible working from Day 1
At FarrPoint, we believe that remote working can provide many benefits and so we offer our employees the option to work anywhere in the world, flexible hours, home working as well as on-site working with clients. We were doing this long before COVID-19 forced many others to catch up. At the start of the pandemic, companies saw a big shift away from the traditional style of office working, as there was a huge increase to remote working with almost half of working adults working from home at times.(this will open in a new window)[1] Before this, it was reported that only one in eight working adults worked from home. This was not the case at FarrPoint as we have offered a hybrid working environment for all our employees since day 1 back in 2006 as we could see the benefits it brings to our team.
From the start we didn't want to be bound by rules and ways of working just because it was normal, and the way others did it. It's part of our DNA to question, be curious, challenge the norm so we have never had set working hours, never insist on working from a specific location, we just want excellent quality delivery of projects that meet and exceed client expectations. And it works.
Staff survey on flexible working
FarrPoint recently conducted a staff survey asking for feedback on our Flexible Working Policy and here are some of the findings.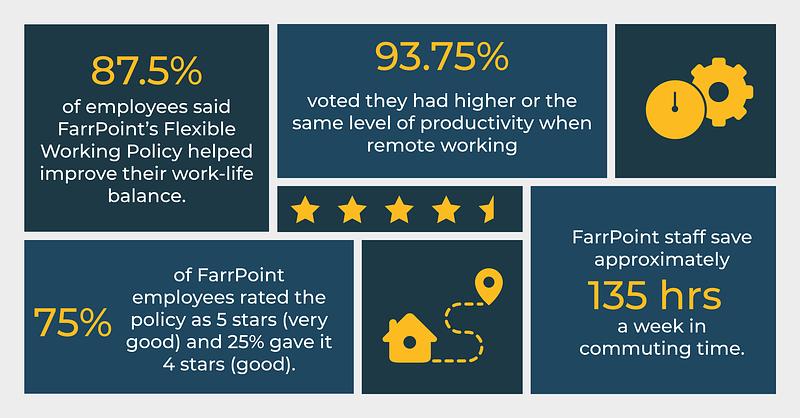 The survey also highlighted that staff still enjoyed coming into the office to interact, learn, and collaborate with their colleagues. It was also clear that the employees benefited from a change of scenery to help with productivity which the office provided.
Flexibility is in our DNA
As we come out of restrictions, many companies are reassessing what the future of their company work style could look like. A recent report from the Chartered Institute of Personnel and Development (CIPD), (this will open in a new window)[2] showed that more than three-quarters of organisations have embraced hybrid working through a mix of formal and informal arrangements. However, employers are split over whether the move to new ways of working will last or if organisations will go back to pre-pandemic ways of working. Another recent CIPD survey also found that one in ten companies plan on reducing pay or benefits for home workers after failing to encourage people back to their desks by using a host of incentives, according to a survey of over 1,000 employers.(this will open in a new window) [3]
The viewpoint is far from the one we share at FarrPoint. We believe that offering remote working encourages productivity and outputs, allows our employees to work to a schedule that suits them and our clients, whilst also helping to maintain a healthy work-life balance.
An additional benefit is location independence, which means we are able to employ the best people for the role without location being a hindering factor, allowing us to have access to highly skilled and qualified individuals across the UK and Europe.
Find out more about the company culture at FarrPoint and other employee benefits we offer.
(this will open in a new window)[1] https://bit.ly/3OAlgJb
(this will open in a new window)[2] https://www.cipd.co.uk/about/media/press/270622-cipd-hybrid-working-splits-employers#gref
(this will open in a new window)[3] https://www.telegraph.co.uk/business/2022/06/24/employers-across-country-preparing-slash-pay-home-workers