A quick Q&A chat with Neil
FarrPoint's Anna Fearon had a chat with Neil and found out some interesting facts about his working and life experiences so far.
Neil Watt - Principal Consultant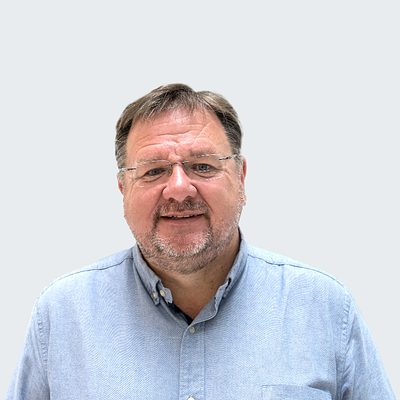 1. You're a connectivity consultant. But what did you want to be as a child?
As a child, I wanted to be a carpenter and build boats. From a young age, I loved boats. I came from a sea fishing family from the North East of Scotland, so that may have been where the fascination started. I still have a genuine interest in the intricate woodwork required, and I sometimes watch videos on YouTube of people showing the behind-the-scenes of building a boat. I dream I might someday build my own boat in my garage and set out to sea with it but knowing me I would build it too big to fit back out though the door!
2. What's your favourite FarrPoint project and why?
It would be impossible to single out one! The projects I enjoy most are the ones where connectivity makes a real difference to people's lives, particularly in challenging rural locations like the Scottish islands.
3. What is your favourite place in the world and why?
This is a hard one to answer; I have been fortunate to visit many nice places. I have travelled all over the world for leisure and work, including trips to Iceland, Scandinavia, the Far East, the Middle East including visiting Petra in Jordan - Petra was amazing! Although all these places were incredible, I always enjoyed coming back to my hometown of Edinburgh. I feel we are very blessed with this city, one of the most spectacular cities in the world; with its amazing history and scenery, open spaces, great atmosphere and vibe, the festivals and especially the abundance of fantastic places to eat and drink. It has absolutely everything and all in a relatively small area.
4. What was your first job?
I was 12 and I delivered dairy products (not milk) door to door on a Saturday morning. I did it for Edinburgh Dairies (basically the Co-Op) and was commonly referred to as the "cream boy". I would deliver cartons of cream to people's houses! Back then, people didn't have big fridges and certainly not freezers, so on Saturday, I would go around my local neighbourhood in my white jacket and hat, with my cool box selling cream so they could have that special desert on a Saturday/ Sunday! My big brother did before me.
5. If you could had a superpower, what would you choose?
(Anna notes Neil's quick response and knows he has thought about this question before!)
Invisibility! I like people-watching. I am genuinely fascinated by people, so to be invisible and watch the world go by or sit in on some important MI5 briefing would be the superpower I would choose. One of my favourite things to do is to visit the (this will open in a new window)Stockbridge Tap bar with my wife, order a great real ale, sit in the window seat, and look out on the streets of Stockbridge, watching everyone walking by.
6. If you had a time machine, would you choose to go to the future or the past?
The past - I like history. I would love to observe the world in a different period. What would be really great is to go back in time but also be invisible! Imagine going back to a critical point in history and seeing if the history books got it right if it indeed went down as they said it did or being able to say, "they got it wrong! - it didn't happen like they said it did". I am currently reading a book about the History of Edinburgh in maps ((this will open in a new window)Edinburgh- Mapping the City) which I find very interesting.
6.5. [extra question] What is the best fact you've got from your book?
In ancient times the area from what is now Haymarket railway station all the way west, past Corstorphine and on to the Gyle shopping centre was once a huge Loch. Look at it now, completely built over!
7. What is one song you could keep on repeat?
I think it would be Led Zeppelin, Ten Years Gone. In 1975 when I was 12 years old, I had some pocket money (from the dairy job) and wanted to buy my first album. I was only allowed to get the bus into town if my brother, who was 16 at the time, came with me. I didn't know which album I wanted to buy, but little did I know that my brother was desperate to buy Led Zeppelin's new album, (this will open in a new window)Physical Graffiti, however he had no money! He persuaded me to buy the album. All turned out well because I loved that album which completely blew me away, and I still have that original LP to this day.
Photo of Neil's album.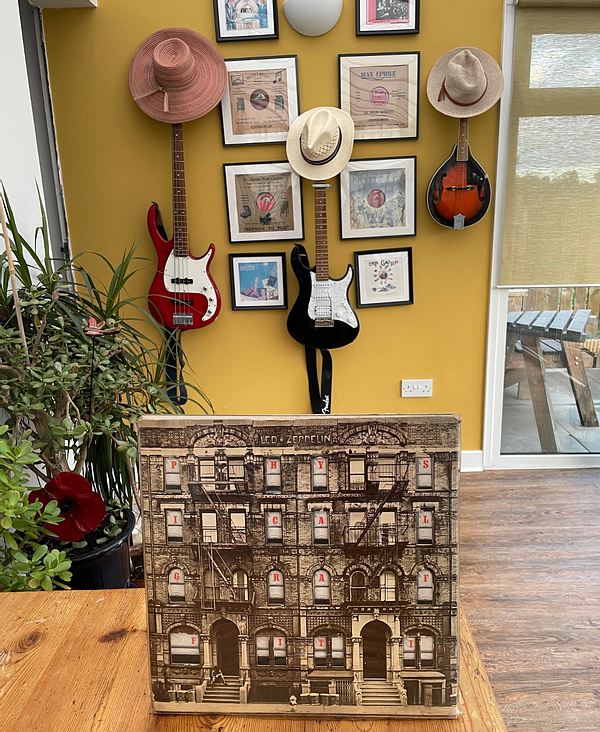 8. What does Neil's perfect weekend look like?
Nowadays, my perfect weekend would be my wife, Sandra and I getting up and going out for an early morning coffee. It would be at this time of year when autumn colours in Edinburgh are just fantastic, and we would get the bus into town, walk down through the new town to Stockbridge, meet some friends and go to the (this will open in a new window)Scran and Scallie for lunch. We would then make our way along Stockbridge, visiting some fantastic pubs along the way. A few of my favourites are (this will open in a new window)The Tap, (this will open in a new window)The Bailie Bar and then closer to town, (this will open in a new window)Kay's bar (with its roaring fire), (this will open in a new window)The St Vincent, (this will open in a new window)The Cumberland Bar and then get the bus home. Good beer, good craic and good company.
Photo of Circus Lane, Stockbridge. The road leading down to the St Vincent bar.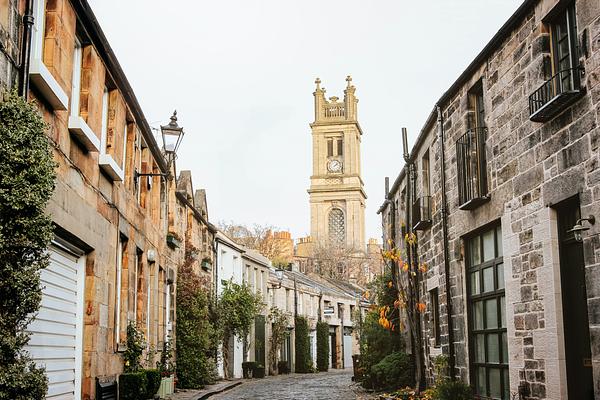 9. What has changed, and what has stayed the same in the five nearly six years you have worked at FarrPoint?
A lot has changed; we have more people and more clients. Thanks to some of our new team members we have also had a makeover and now even have plant pots, pictures, and shelves in the office! Don't think we had that when there was about 8 of us so it was about time that we had the makeover, and I am glad we did! We have changed office location, and the breadth of projects has changed. I think change is good! We also had a change of branding where the lighthouse was removed, and then it returned. I was glad it came back.
Things that have stayed the same… the grumpy 'old timers' have stayed the same, we are still here, and I include myself in that! More importantly, what has not changed is our passion to see things done well; we really care about every project we do and invest our heart and soul into them.
10. What is your favourite thing about FarrPoint?
The people! It is an excellent team, the best in fact but then you could say I am biased!
When we look for people, FarrPoint is careful that the people we employ are the right fit. Of course, they need to be competent, professional and do their job well, but it is also important to be an all-around good person who fits in with our values, is sociable and nice. Without the people, there wouldn't be a FarrPoint.
Then there is the work, after 42 years I should be hanging up my boots and passing the mantle on to the younger generation, but the 'young uns' won't let me go! However, I still enjoy the work, the variety and the clients and of course being able to work with a wonderful team of talented individuals.
Photo of Neil at Connected Britain 2022. Photo by Jan Miszalowski.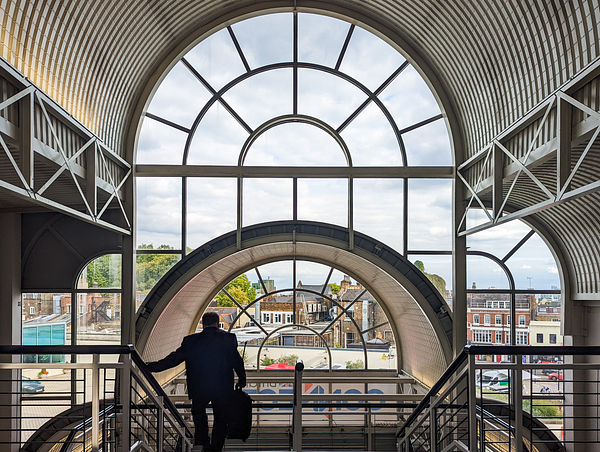 11. Who would you like to nominate for the next 'Meet a FarrPointer' interview?
Emma Philpott. (Emma has already done her interview so next up is Emma's choice, Chris Bond)