A quick Q&A chat with Steve
It is time for the next "Meet a FarrPointer" and FarrPoint's Anna Fearon interviewed Senior Consultant, Steve Smith over a Mexican lunch.
Steve Smith - Senior Consultant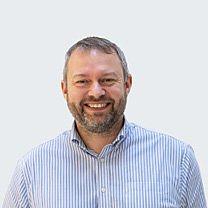 1. You're a connectivity consultant. But what career would you have wanted to pursue if you weren't in this line of work?
I would have pursued a career as either a professional dancer or joined the military.
I was on the path to being a professional dancer from my late teens to early-twenties, specialising in street and urban dance. I became good friends with a group of experienced instructors from the local dance school, and we would often meet up and visit the local clubs to showcase our dance skills.
[Anna questions – did you have dance battles like in the movie Step Up?]
I guess you could call it that. We eventually got barred from one club in Newcastle because no one would go on the dancefloor because they were intimidated by our skills, but that was short lived as they soon realised we brought the vibes!
The other route would have been the military, which I nearly did do. I went through the selection process to be in the Royal Air Force Regiment, but I pulled out last minute. I sometimes think about what my life would have been like if I had joined; one thing is for sure, it would be very different to the life I live now.
2. What's your favourite part of being a Senior Consultant at FarrPoint?
I like working with a wide range of people and sharing my knowledge and experience. I enjoy working out the challenges and then applying all my learnings to provide a solution that works. It is rewarding to support our clients achieve their goals and objectives.
3. If you could have a superpower, what would you choose?
I don't know if it classifies as a superpower, but I would like to be able to travel through time. I love to travel, and when visiting places, I often think, "I wonder what this place was like in its hay day". For example, in Rome, Athens or even some of the castles in the UK, when you visit, you see the ruins, and although they are magical, you need to try and visualise what they used to look like and what the atmosphere was like. So, imagine clicking your fingers, going back in time, and seeing these fantastic locations in their original form.
4. What is an interesting fact about you that not many people would know?
I can fly a plane.
I learned how to fly a light aircraft, but haven't done so in a while as you've got to have a minimum number of flight hours per year to maintain a license, and who has the time or money to do that. I've also successfully taken off, flown around and landed a Boeing 777 in a full-sized airline simulator in Hong Kong alongside a Cathay Pacific pilot who gave me a quick lesson while he was there to do his emergency procedure training. He was very impressed I managed to land it successfully first time, so if ever we're on a flight and it gets in trouble, I'm your man.
5. What would you choose as your last meal?
This is a tricky question! It would have to be either a Sunday roast dinner or a Mexican. A roast dinner always seems like a treat, and you can't go wrong with it… but my favourite food is Mexican, so it would be a toss-up!
What would a hybrid Sunday Mexican be like? Maybe Jalapeños in your Yorkshire pudding or Salsa in your gravy. If someone could crack that, I think that would be my last meal.
6. What should the title be if someone wrote a biography about you?
I'm not done yet with lots left to see and do, but once I am, I'd hope it could be "A Life Fully Lived".
A photo of Steve living life to the fullest.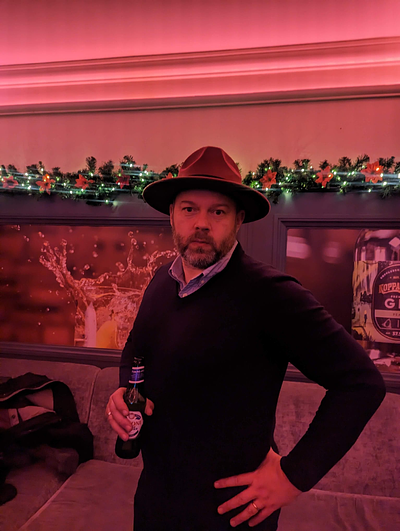 7. What is your favourite place in the world and why?
Without a doubt, my favourite place is Newcastle. I've been lucky enough to visit loads of amazing places, but I feel really happy when I am at home in Newcastle. There are so many things I love about it. In particular, the Geordie people are one of a kind. Newcastle also has incredible architecture; there is a real buzz around the city and always exciting events to go to. I also like that you can drive ten minutes one way and you are at the beach, an hour the other way, and I'm in the Lake District or an hour North, and I'm in Edinburgh.
Here is a picture of Steve enjoying the sunshine at beach near Newcastle.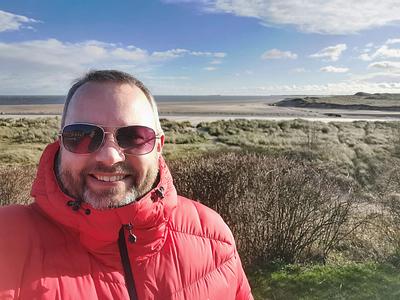 8. If you won the lottery, what would you do with the money?
100% I would buy a yacht! I would love to sail around the Mediterranean, visiting places I have never been and returning to places I already know I love. That would be the dream - just touring around the world on my yacht.
Here is Steve enjoying a cocktail on holiday, looking out on the yachts he would like to buy.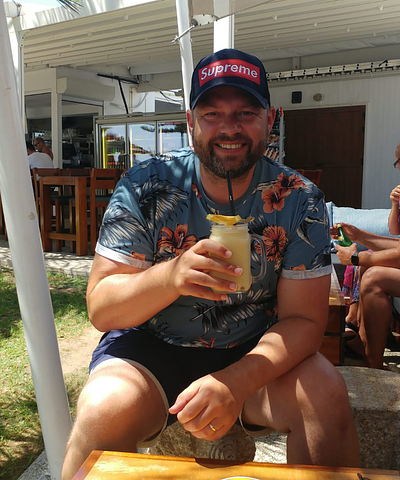 9. How would you describe yourself in one word and why?
I would go with energetic… actually no, let's go with enthusiastic. I always try and approach everything with enthusiasm. I believe this is an excellent way to live your life, being positive and enthusiastic if you can.
10. Who would you like to nominate for the next "Meet a FarrPointer"?
Andrew Muir.
Interested in working at FarrPoint?
We are always interested in speaking with good people who would like to pursue a career at FarrPoint, visit our careers page or drop us an email with your CV to [email protected].