Author: Calum Lamont, Director at FarrPoint
Telephony is changing
Telephony as we know it is changing, and it's happening faster than you think. These technologies have provided the backbone of organisations' communications for decades and now the Big Analogue Switch Off is just around the corner, all these analogue services must be gone by 2025.
Openreach, part of BT, the largest telecommunications provider in the UK, will permanently switch off support for all analogue communications networks by 2025. (this will open in a new window)Openreach also recently announced that it will "no longer be selling copper-based products" in 118 exchanges areas from next year, effectively accelerating the migration of legacy phone services to digital equivalents.
This announcement should act as the starter's gun of a crucial race against the clock and as a warning to avoid being stuck in the starting blocks when a change has arrived. Although Openreach has outlined intentions to move up the migration process to withdraw legacy phone services, other providers are moving to their own timelines. Some operators plan on switching off their analogue services even sooner – emphasising the importance of getting off to a fast start with migration planning.
The trio of telecoms and telephony switch-offs
From analogue telephone line and copper cable replacement to 2G and 3G network decommissioning, these switch-offs will affect millions of people across the UK.
We've put a useful timeline to help you better understand the switch-off dates that are approaching.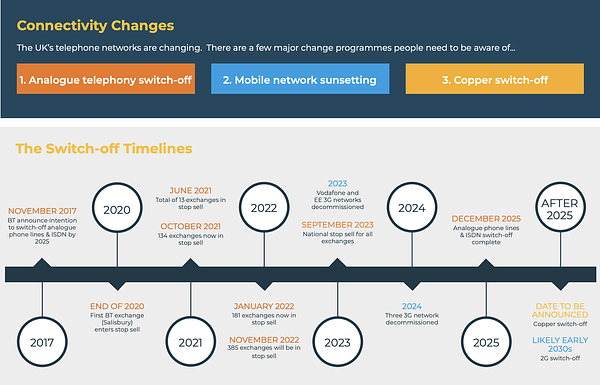 Analogue Switch-Off

Telecom Providers in the UK are decommissioning their analogue services and are moving to fully digital networks. This means that analogue phone lines in residential and business premises are being replaced by digital equivalents. For householders, the change will usually only involve plugging their phone into their internet router instead of a wall socket. It's businesses who will feel the disruption more acutely, especially as the analogue switch-off won't just affect phones, but also equipment like fire and security alarms, traffic lights, boiler controls and car park barriers, to name but a few.

2G and 3G Network Sunset

In addition to the changes to the UK's fixed line network, the mobile networks are also changing. There are plans to decommission ("sunset") the older 2G and 3G networks. This is important for anyone with older mobile devices that only support 3G, as these will need to be replaced. But again, businesses need to take heed because of the other equipment they may be using that also connects to mobile networks – like security alarms and remote monitoring.

Copper Switch-Off

The copper switch-off is another programme of work and is the next step in the UK's move to a full fibre digital network. While the analogue switch-off will see every premise in the UK move to digital phone lines by 2025, many of these lines will still be delivered over existing copper connections. The copper switch-off will see these copper lines being replaced with fibre, providing higher levels of capacity and reliability. This will impact around 25 million premises in the UK, including any business whose network connections are supplied via copper cables. From local authorities, GP surgeries and care homes to pharmacies and hundreds of thousands of retail shops, all will have to switch to fibre or mobile.These changes are already happening, with copper cables being replaced as we speak. If you are a large organisation with multiple locations, it's important to know what sites rely on copper-based services, and what fibre-based alternatives you should be using. More about the Copper switch-off.
Switch-off Guide
We create a simple free guide that will help you navigate all of these changes.
Switch-off Maps of the UK
We created a couple of Analogue Switch-off maps with Openreach and Virgin Media O2 switch-off plans and dates. Simply enter your postcode to find out more.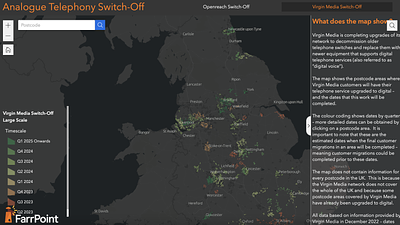 There isn't a one size fits all solution
When Openreach stop supporting analogue services, their plan to move to Internet Protocol (IP) is a logical step. On the face of it, the replacement is fairly straightforward. However, it depends on what is connected to these old analogue services and what can replace them – there isn't a one size fits all solution.
Swapping high capacity telephone trunks (usually ISDN30) for IP equivalents (usually SIP) is a relatively simple change. However, organisations typically also use a large number of other telephony services to support a range of applications for example alarms, building management, lifts, traffic management systems & telecare. The modern communication standards used by IP phone lines, and their reliance on mains power, means that they cannot always support these kinds of legacy applications, meaning a like-for-like replacement may not always be possible.
Identifying where all these existing telephony services are being delivered, and what they're being used for can cause a few headaches. We regularly see telephone services that were installed decades ago, with limited information available on who is using them, but bills still being happily paid.
IP telephone lines require a data network connection – this can be an issue for telephone services in locations with no data cabling, or where the service must operate during power outages. Ultimately, organisations need to consider whether there is time and budget available to address cabling issues, and what impact a potential reliance on data networks may have on support arrangements.
It's not all bad news
Even though the analogue switch-off will affect many areas of businesses like telecare, traffic lights or various sensors and alarm systems, it's not all bad news. Although a one-size-fits-all approach is not possible, there are solutions available for most applications. In addition, the switch off provides a perfect opportunity for organisations to review their telephony services and delivery arrangements. Our experience has shown that the process of rationalising telephone services and refreshing contract arrangements can deliver significant efficiency savings and simplify support arrangements.
So, the lesson? - The Big Analogue Switch Off isn't happening in 2025, it is happening now! Time is running out and there is often more to the change than a first glance might reveal. The planning and implementation take time and money, and time for some has run out and is running out for others. Act now before it is too late!
We develop solutions in partnership with our clients
There is not a one-size-fits-all approach to the switch over as each organisation has unique needs. Get in touch with us to discuss how we could help you find the most suitable solution.