The Challenge
Newcastle City Council's commitment to being a leading digital city is fuelled by its understanding of the importance of good mobile coverage in supporting both economic renewal and citizens quality of life – especially with the ongoing trend for homeworking. When the council's Digital Newcastle Programme received feedback that areas of the city expected to have good 4G coverage were experiencing poor connectivity they knew they had to investigate. The council needed a more accurate coverage map of the city to better understand where the coverage gaps were and how to support connectivity improvements in the identified areas.
With FarrPoint's industry-leading GIS mapping capability and extensive experience in working with the public sector to improve their digital connectivity, we made a natural partner for Newcastle City Council in this project.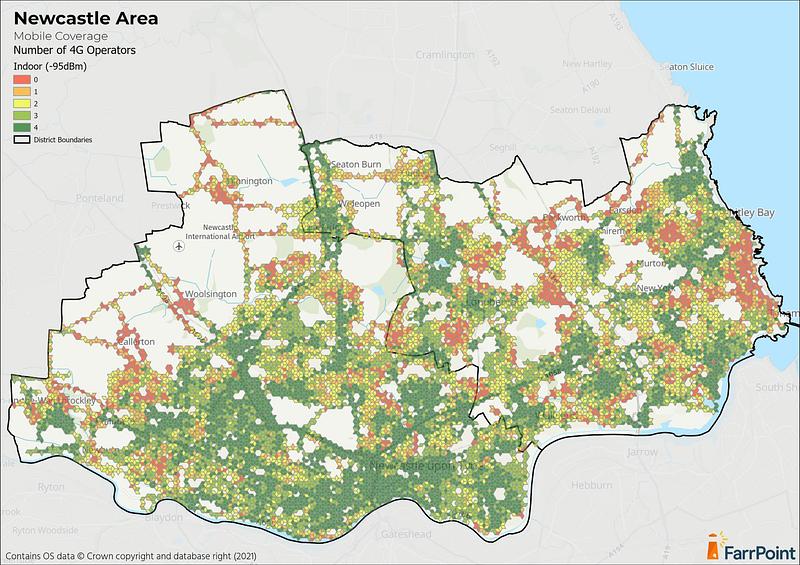 This map showcases indoor 4G coverage of all mobile operators in Newcastle.
The FarrPoint Solution
To be able to provide an accurate map of exactly where 4G coverage was and, importantly, was not available, we had to traverse the city to measure the 4G mobile signal. In the past, we have done this by attaching our mobile mapping equipment to the local authority's vehicles, typically bin lorries. However, due to NCC time constraints, we were commissioned to use our own vehicles. Surveying the city this way required a different approach to route planning and monitoring. Access to bus lanes had to be negotiated, and some areas had to be revisited due to temporary road closures or other restricted access. All this had to be achieved within a very tight timeframe.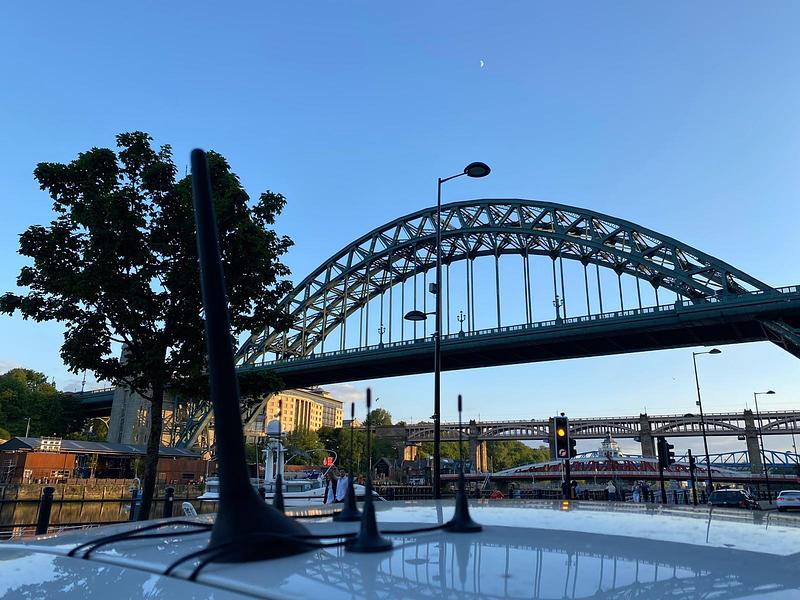 To meet this challenge, we:
- Agreed the scope of roads to be included within the survey and developed an in-house online application to allow progress to be tracked and updated each day.
- Undertook a detailed survey of 4G mobile coverage across the Newcastle area using a FarrPoint vehicle and our mobile coverage mapper device.
- Presented independent and accurate 4G coverage results to the Council via Farrpoint's online GIS map portal.
- Produced a high-level summary analysis of 4G coverage across the agreed area indicating the levels of coverage available and comparing these to Ofcom Connected Nations figures for the area, including individual coverage maps for each of the four UK mobile operators (MNOs), together with a combined map showing partial or total 4G coverage not-spot areas.
Project Results
Alongside this, we have extensive knowledge of mobile infrastructure and how this is deployed by operators. Our insight into the potential interventions that might be required to increase mobile coverage in the area facilitated an informed, evidence-based discussion between NCC and the mobile network operators regarding current and future coverage plans. The Council was then able to make informed choices about which mobile operator provides the best coverage in areas of interest, enabling better mobile connectivity for remote or home working, remote learning, etc in addition to the delivery of other council services.
This puts NCC in a position to meet the long-term digital connectivity needs of the city and fulfil its three digital objectives – improving outcomes for people; delivering cost savings in public service delivery and continuing to promote Newcastle as a testbed for tech innovation, growth, and economic development.
Jenny Nelson, the council's Digital Newcastle programme manager, said: "We want Newcastle to be the best connected city that it can be and we know that has become even more important with the growth in working from home.
"This exercise has given us the real experience of residents, businesses and visitors, which in some cases is different to the data published by networks, and with this street level detail we can look to work with mobile providers to improve coverage and hopefully rid our city of "not spots."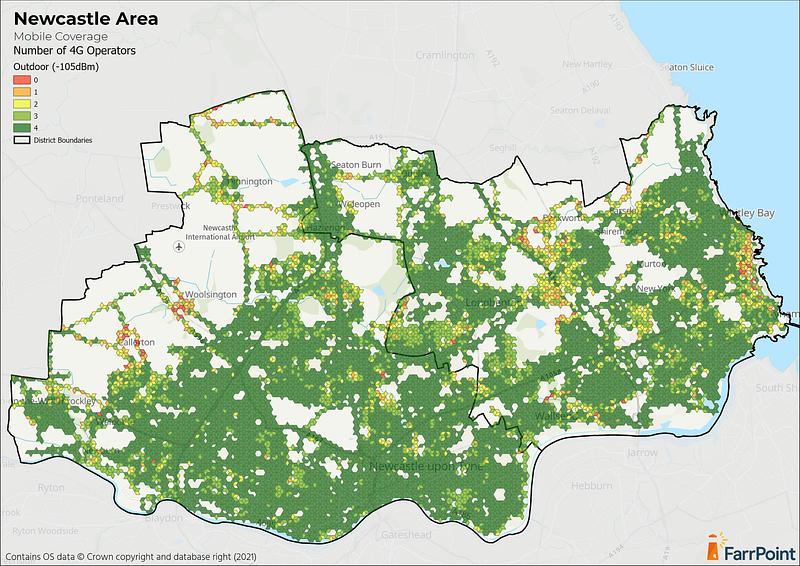 This map showcases outdoor 4G coverage of all mobile operators in Newcastle
Independent Mobile Coverage Mapping
If you are interested in hearing more about this project or learning about our independent mobile coverage mapping service, please get in touch or visit the service page.