FarrPoint Project Manager: Chris Bond, Principal Consultant at FarrPoint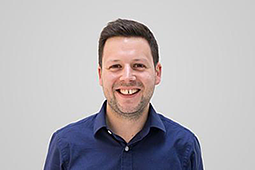 The Clients: Scottish Futures Trust, Scottish Government, WHP Telecoms

Background
The (this will open in a new window)Scottish Government's 4G Infill Programme (S4GI) is a £28.75 million initiative delivering 4G infrastructure and services in up to 55 mobile "not-spots" in rural and remote parts of Scotland. The programme is being delivered in partnership with the (this will open in a new window)Scottish Futures Trust (SFT) and (this will open in a new window)WHP Telecoms Ltd.
The Challenge
To understand the state of 4G coverage and scope deployment options, the SFT enlisted the support of FarrPoint to conduct the in-depth analysis required including a series of Multi-Skilled Site Visits (MSVs). These enabled the Scottish Government to launch a successful procurement to appoint a delivery partner.
(this will open in a new window)Sarah Eynon, Programme Director at the Scottish Futures Trust, said:
FarrPoint were well placed to provide the multi-skilled support we needed due to their industry experience, technical knowledge and modelling capabilities.
The Process
FarrPoint initially conducted a detailed desktop analysis of current and planned 4G coverage across Scotland. This utilised information on predicted current coverage from Ofcom coupled with planned coverage estimated by FarrPoint using our Radio Network Planning tools, largely due to new masts being built for the new Emergency Services Network.
This analysis provided a clear view of the current situation and allowed 4G not-spots to be identified and ranked in terms of properties, population, and geographic coverage.
Example: Analysis of mobile coverage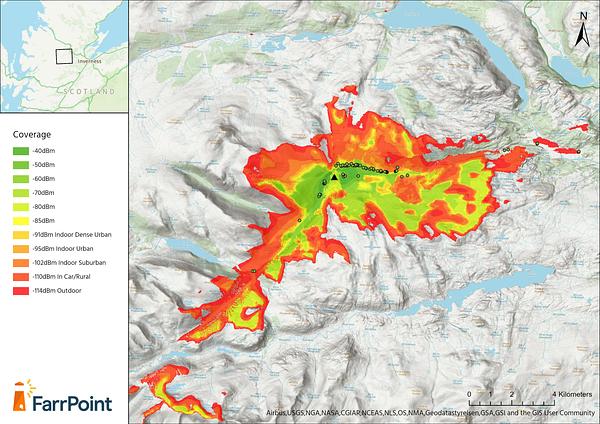 Following this, we investigated and identified a selection of candidate mast sites to serve these not-spots. An initial shortlist of locations was agreed based on prospective planning from our Radio Network Planning tools, which automatically identified the best locations for new mast sites.
FarrPoint then deployed a team to conduct Multi Skilled Site Visits of each location, identifying up to 3 candidate sites to serve each not-spot. These surveys factored in a wide range of constraints such as the geography, site access and logistics, local power, fixed or point-point connectivity, cell orientations, local planning considerations, and landowners.
To assist with the MSVs, FarrPoint developed a field-GIS app to help the efficiency of the site visits. The smartphone app allowed the team to have on-site access to the results of desktop analysis in interactive map format, and efficiently capture all the survey data at each location. This app provided offline data viewing and capture (a requirement for surveying not-spot locations), uploading the captured data back to the team as soon as connectivity was available.
Example: FarrPoint's field-GIS app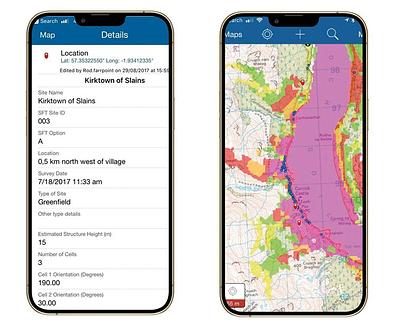 The use of field-GIS significantly sped up the survey process and allowed accurate spatial data capture for the candidate mast site locations. As a result, the technical team could start work on calculating the coverage predictions from each MSV candidate site whilst the survey team were still out conducting surveys.
Image: Site Selection Examples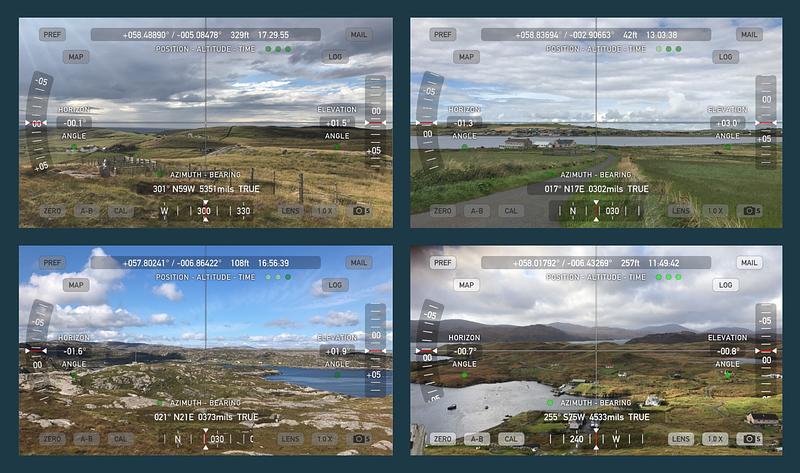 One key constraint in siting new masts is the availability of backhaul connectivity. FarrPoint used their market knowledge to assess each site for fixed (fibre) connectivity, or microwave point-point from existing mast locations. The cost of each of these connectivity options was also estimated for each site.
Results
FarrPoint compiled the results of the MSVs with their predicted coverage outputs into candidate site packs for each location. Through workshops with SFT, a preferred candidate site was selected for each location from the options presented.
The site packs were utilised to support the launch of the procurement and were provided to the appointed delivery partner as an initial view of potential sites to aid in their site selection, acquisition, planning, design and build stages.
Assurance of new sites
FarrPoint also play a role in the assurance of new sites delivered for the S4GI programme through a commission from WHP Telecoms to independently verify sites to confirm they are live and delivering the predicted coverage from the on-board MNO(s). This is undertaken using FarrPoint's mobile coverage mapping tools, meaning the effectiveness of the new mast can be accurately assessed, mapped, and demonstrated to WHP Telecoms.
Example: Mast at Kinlochbervie. Photos taken by FarrPoint consultant Alan Patterson

Our Services
If you are interested in hearing more about this programme or learning more about our independent mobile coverage mapping or data analysis and modelling services, please get in touch or visit the service page.