By Andrew Muir, CEO at FarrPoint
How do we measure mobile coverage?
At FarrPoint we know about the challenges with coverage of connectivity services whether it's broadband or mobile, and whilst this is predominantly in rural areas, our towns and cities can also have challenges. That is why we developed our mobile coverage mapper, which is a smart box of electronics, about the size of a shoebox, which lets us measure and map mobile coverage. You plug the box into a vehicle's power socket, attach the small antennas to the roof, and drive around the areas you are interested in. We then perform the magic which extracts the data received by the box and presents it on an online map. This then lets us see which mobile operator offers the best quality service in all the areas of interest.
We recently developed a battery-powered backpack version of the coverage device. We knew good mobile signal spots could be of interest to ramblers and outdoor enthusiasts in case of any emergencies or even just to update others of changed plans. So recently we've been taking FarrPoint's special backpack with antennas to the hills and other remote areas to check what the coverage is like.
The first time we attempted to measure mobile signal at sea... on a fishing boat!
On a recent trip to my home village of Achiltibuie in the North West Highlands of Scotland, I stuck a coverage box in the car as I drove many miles along rural roads, measuring mobile coverage all the way. The beauty of this box is that it just sits there hidden under a seat and does its stuff, you don't have to do anything
I was keen to try the coverage unit at sea as I know my fisherman friends use their phones when they are out fishing for langoustines and lobster offshore from Achiltibuie around the inshore waters of the Summer Isles and Loch Broom.
So I put the coverage box in a backpack along with its battery and antennas and hitched a lift on the 23ft fishing boat Lymirac, skippered by my good friend Duncan Ross.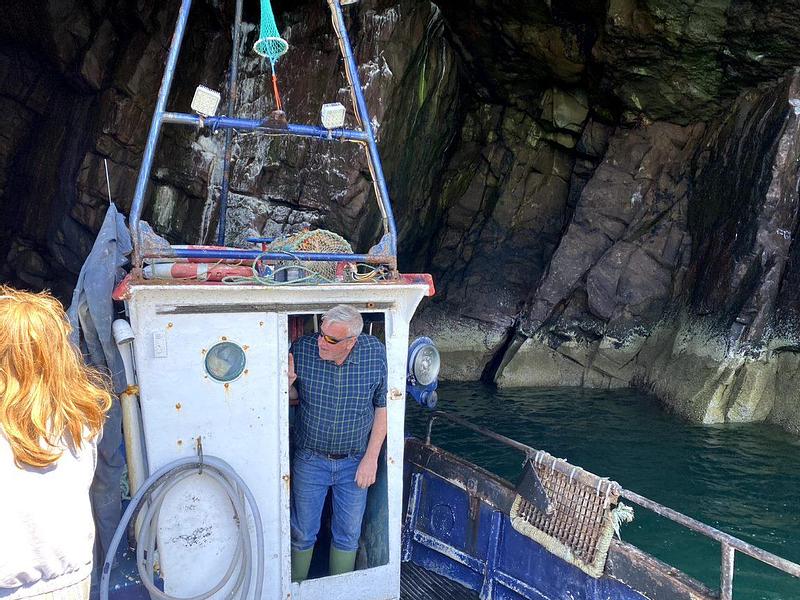 Fishermen also need 4G! And it's not just for streaming Jaws on Netflix...
Our short trip around the Summer Isles shows some areas of good coverage but quite a few gaps. Duncan and the other fisherman have now learnt to work around poor coverage areas, although the harbour area they work from is not covered at all. This causes them quite a few issues. The image below shows the results for one of the main operators with dark routes showing areas of no coverage.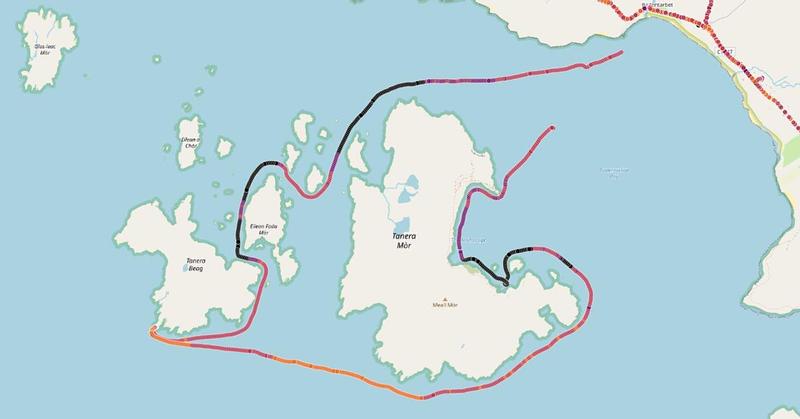 These local fishermen are increasingly reliant on local markets for their catch, particularly post Brexit, and so need to be in touch with the hotels and pubs to share their catch updates and receive orders. Without mobile coverage, this is not possible around the harbour and so they either need to find a patch of coverage at sea or wait until they land, drive to an area of coverage, get the order, go back to the boat to sort the catch etc.
There is of course also the safety angle at sea and although the working boats have VHF radios to communicate between themselves and the coastguard in case of an incident, mobile coverage is particularly important for leisure users who will be reliant on their mobiles and be surprised to find they may not get coverage.
So can you get a mobile signal at sea?
In short - Yes. But it could be weak and inconsistent.
This was an interesting test of our coverage solution and shows how patchy mobile coverage can be around our coastline. Certainly, something to bear in mind as we take to the water and seek out adventure and a reminder of how important connectivity is to rural business.
As with all good stories, this one ends well with a good basket of langoustine, brown crab and spineys to enjoy at the end of the day!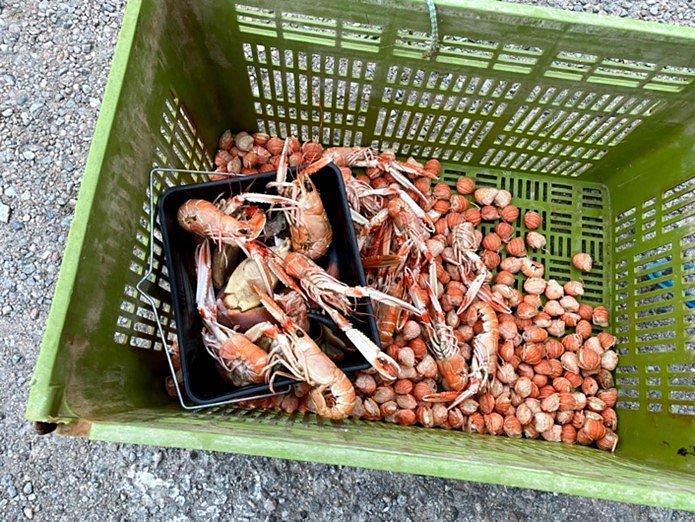 Find out more about FarrPoint's mobile coverage mapper device and how we use it on larger connectivity projects.