"Often, the key reason for this is that objectives and expected outcomes are not clearly defined and understood at the beginning of the process."
"Many of these projects could have demonstrated significant measurable impact if benefits were considered at all stages of project design and delivery", says Matthew.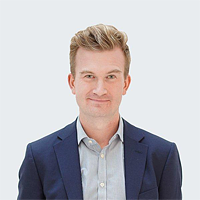 Photo: Matthew Izatt-Lawry
"When I speak to clients, my advice and guidance is always this - put maximising the deliverable impact and benefits at the heart of your project. And therefore, at FarrPoint, our approach to developing projects and programmes is unlike many other consultancy firms. We ensure that we use our experience of the commercial, regulatory and policy considerations to ensure we help clients to design digital technology and connectivity infrastructure that can be delivered on the ground and that maximises the desired benefits''.
"We ensure that this approach is based on evidence, therefore, we use robust proven approaches, including Economic Analysis to ensure that projects are developed and delivered in a way that maximises benefits to communities, businesses and the environment."
Three core stages to benefits maximisation approach
Our economics team at FarrPoint uses an agile approach to ensure clients maximise impact and that is based around three core stages:

Stage 1: Impact Assessment -

We help clients to understand the impact that digital technology and connectivity infrastructure and adoption can have for them, this can include undertaking Socio-Economic Impact Assessments and/or Net Zero assessment. This robust evidence base can be used as a basis to create a strategic vision with a clear plan of prioritised actions that will deliver maximum impact and benefit. At FarrPoint, we have undertaken this impact assessment approach with a range of clients, including the

(this will open in a new window)

Isle of Man Government and the West of England Combined Authority.

Stage 2: Project Design -

We work with clients to develop robust evidence-based business/ investment cases to ensure projects are designed to maximise impact. Where appropriate, we utilise the HM Treasury Green Book Five Case Business Case approach to designing interventions. Our methodology for appraising and designing projects ensures that solutions deliver value for money, and includes a Benefits Realisation & Management process to helps them achieve their objectives, and demonstrate impact. We have demonstrated this through our work with St Helens Council and multiple National Government Agencies.

Stage 3:

Benefits Realisation & Evaluation -

Once a project is being delivered, we assist clients to monitor and evaluate the impact and benefits that digital connectivity and technology can have on society, the economy and on the environment. This can take the form of Benefits Monitoring & Management during the lifetime of a project, and then an Evaluation – assessing process, impact and value for money – at the end of a project. FarrPoint has demonstrated a strong track record on Benefits Realisation and Evaluation, through our work with Swansea Bay City Region Deal and on three DCMS' DCIA Pilots."
"Our three-stage approach has been proven on a range of client projects. Having a clear understanding of the benefits a project should deliver, provides a sound basis for planning, delivering, and evaluating technology change. This is why we always recommend taking this approach to any digital project team out there", Matthew added.
"Furthermore, this approach can be applied at any stage, even if you are already midway to your project and are questioning the benefits it will deliver, we can provide guidance on your existing project and help bring it back on track".
Find out more
At FarrPoint, we look for ways to help our clients with maximising the impact of their projects and can help them at any stage of this benefits process, or from beginning to end. If you'd like to find out more about FarrPoint's services, please get in touch or view our economic analysis services page.