A quick Q&A chat with Chris
FarrPoint's Anna Fearon had a chat with Chris Bond, FarrPoint's Head of Data and Visualisation, and found some interesting facts about him.
Chris Bond - Principal Consultant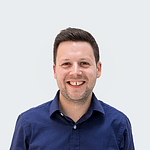 1. How did you end up becoming a Principal Consultant at FarrPoint?
I was the kind of child who was always taking things apart and wanting to figure out how things worked. Not surprisingly, I went on to study Engineering at University (Electronic Engineering with Communications), and upon graduating, I went straight into working in consultancy. To me, consultancy is all about learning new things and problem-solving which is what I relish.
The people I have met in the industry have helped open doors for me, and following good teams has had a big impact on my career. For example, Neil Watt was my first manager as a fresh faced graduate, and I am delighted we continued to work together at FarrPoint. I've been lucky to be part of some great teams and benefitted from fantastic mentors.
We have doubled in size since I joined FarrPoint in 2016, and being part of a growing company has given me the opportunity to help with the recruitment and direction of the team. I developed a role for myself that is focused on data and information, bringing that together with an understanding of the underlying technology and infrastructure, and I head up our Data Analysis and Visualisation team.
2. What's your favourite FarrPoint project and why?
One project I have particularly enjoyed is creating our Mobile Coverage Mapping solution which has been used by our clients across the UK and in Canada.
In this case, we had an idea for an innovative solution to answer a question our clients had – how can we more easily measure real-world mobile coverage at scale? I have been responsible for the development of an end-end solution to process the data captured, catalogue and store it, and visualise the results on our interactive maps.
To date, we have captured over 16 million data points from our survey units – with our job being to translate the results in a non-technical way for clients to identify areas of poor coverage and plan the delivery of services relying on mobile connectivity.
This project has been a place where I've been able to test new ideas and service offerings, and it continues to be an area for innovation across the team.
3. What does Chris' perfect weekend look like?
My perfect weekend would probably be doing anything outdoors, most likely hiking. I'm not one for sitting still, so I like to get away from the desk and make the most of the weekend. I might combine a walk with going somewhere for brunch and taking my son to see some trains. He is wild about trains and watches endless documentaries on them, even though he is only three years old.
I also really enjoy a bit of DIY. This gives me some quiet time to myself after a busy week. I like having the opportunity to do something physical as at work, I am often problem-solving on various projects and then at the weekend physically problem solving, fixing various things around the house. Or you might find me setting up some new piece of technology for the home (not always to my wife's approval).
Chris walking with his son on a sunny afternoon.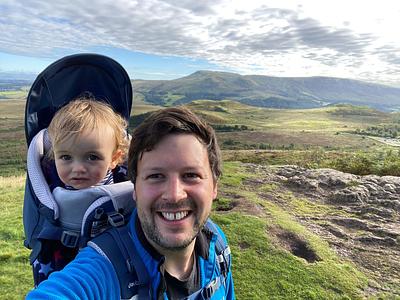 4. Where is your favourite place in the world?
I have been lucky enough to travel quite a lot, and my dad and I have taken many trips together. One of my most interesting trips was to Japan in 2010. It is an incredible place, and we fully immersed ourselves into the culture, trying lots of local dishes, but we had to pass when some fellow travellers suggested we tried "torisashi" which is basically chicken sashimi, so, yes, exactly what it sounds like; raw chicken. We also travelled to Vietnam, which I loved. We were taken around Ho Chi Minh City on scooters as part of a street food tour, which, if you have been to Vietnam, you know is a must-do but also terrifying.
Therefore… I would probably have to say Asia, in general, is my favourite place. But it could equally be at the top of a hill in Scotland on a good day! However, I don't see as many hills as our colleague Nikki who is a serious Munro bagger.
Chris travelling in Vietnam with his dad.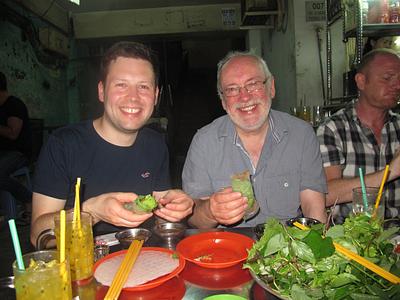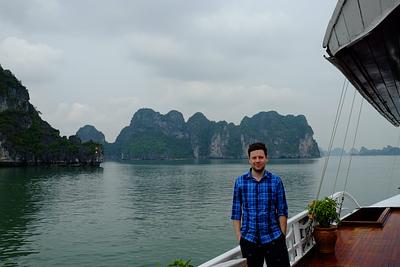 5. We hear that you are quite the singer and are part of a choir. What is your favourite song to sing?
I was a chorister at Dunblane Cathedral from around age 7 till I went to University, and I currently sing in the (this will open in a new window)Glasgow Chamber Choir. There was always lots of music at home growing up and it has always been important to me. I also played (and sang) in a Ceilidh band through university, which it turns out is pretty much the perfect student job!
In Glasgow Chamber Choir we mostly sing classical style music, ranging from early choral music by composers like Byrd and Palestrina to 20th and 21st century composers like Lauridsen, Whitacre, Sir James MacMillan, and everything in between. We like to take the less-trodden path and perform music that challenges us.
Through the choir I've been fortunate to be part of many interesting concerts – from a 'Choral Marathon' for the 2014 Commonwealth Games, War Horse: The Story in Concert with Michael Morpurgo, performing in the Netherlands and across Scotland, and being part of a number of events with the BBC live on radio and with the Scottish Symphony Orchestra. I was also once an extra in the backing choir for Andrea Bocelli and Beverley Knight at the Hydro in Glasgow!
Like in my work, the choir is notable for being made up of a great group of people.
Our next concerts are as a backing choir to two Christmas Spectacular concerts in Glasgow Concert Hall and the Usher hall on 20th and 22nd December. These are usually lively concerts with on-stage dancers and fireworks!
Next year we are undertaking another exchange with a choir in the Netherlands where we will go over and perform a couple of concerts in Amersfoort in March, followed by a return leg in Scotland in April, which I'm really looking forward to.
(Keep an eye out for our upcoming concerts on the choir website and social media - (this will open in a new window)glasgowchamberchoir.org.uk/)
Chris and the Glasgow Chamber Choir.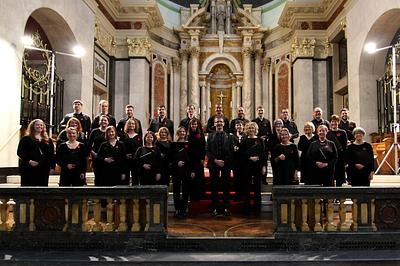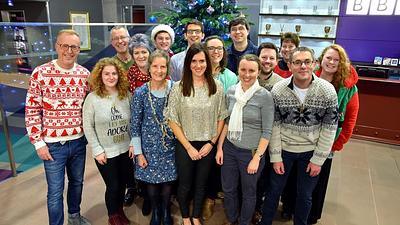 6. What's the best advice you've ever heard?
One of the best pieces of advice I've ever had was from Neil's wife, Sandra. As a new (and exhausted) parent, she said something like, "trust your instinct; no one knows your child better than you do". The idea of trusting your parental instincts was really helpful at a time when everything is new and unclear.
7. Films or books? And what is your favourite?
Both! I am a geek - I love all sci-fi films or anything to do with technology. I also enjoy reading a good book, although once I start, I have to finish it and end up devouring the book.
8. If you could have a superpower, what would you choose?
I would be able to click my fingers and make a perfect coffee appear.
9. If you had a time machine, would you choose to go to the future or the past?
I would go to the future, mostly because I love technology, and I'd love to see the advancements in technology and what the world looks like. If I had to put a year on it, I would probably go 100 years into the future. I think it would be really fascinating.
10. Who would you like to nominate for the next 'Meet a FarrPointer' interview?
Nikki!