Our Data Analysis and Visualisation team applies specialist technical knowledge to address our client's problems and opportunities in innovative ways. We support a large range of projects for public sector and private clients, each with different requirements and data types. As a result, our team are familiar with applying a broad range of data analysis techniques and developing new solutions on a regular basis. We specialise in creating repeatable data pipelines and models to feed our outputs, resulting in significant time savings and the flexibility to make changes.
Bringing connectivity to life
Our team gathers data and insights to help visualise the state of connectivity infrastructure available in a specific geographic area, bringing this data to life in interactive maps and applications. Building on our insight gathered across the business, our team of experts interpret data to give an unparalleled level of detail. Combined with our Consultants' specialist knowledge, this allows us to deliver data-driven practical advice.
Our services include:
Fixed and mobile network scenario modelling and analysis - using our mapping and network planning tools to provide unique insight into coverage planning, strategy and pricing
Connectivity pilots including IoT and 5G – Exploring new ways for connectivity to digitally disrupt, transform business services and communities
Data Exploration, Processing and Analytics – getting value out of your datasets such as asset locations, IoT streams or Open Data to quantify benefits and drive improvements
Multi criteria analysis – undertaking suitability analysis to optimally place new infrastructure or services, including field-GIS data capture
Data visualisation and mapping – from creating live data dashboards to interactive maps and apps for teams and stakeholders
Conducting independent vertical market reviews to assess the progress and application of digital connectivity and infrastructure
The FarrPoint map portal provides a central place for clients to access the maps, dashboards and visualisations that we build for them.
We make interactive outputs of our assignments available to clients through the portal so you can access them whenever, and wherever, you need to. This allows our clients the flexibility to visualise, manipulate and analyse their own data, often in the context of other datasets from a multitude of sources, hosted on the platform or streamed from live feeds.
Our maps and dashboards are used by various teams in a variety of ways, with the following benefits:
Improved data-driven decision making,
Better engagement with internal and external stakeholders,
Increased efficiency and coordination between teams and organisations,
Ensuring staff and organisations have access to the latest and up to date information
For more details see our dedicated (this will open in a new window)Map Portal Page.
More examples
Superfast Northamptonshire's When and Where Map
One example of our work is the (this will open in a new window)Superfast Northamptonshire's When and Where Map, allowing residents to search for accurate information on broadband availability at premise level, built by FarrPoint. Try it out here: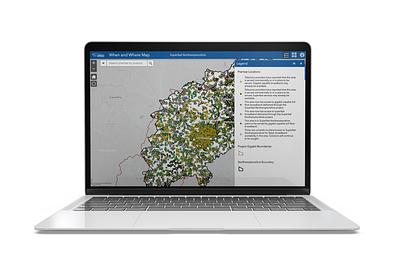 Netflix and Standstill Map
Another example is our Netflix and Standstill map, FarrPoint's pioneering Mobile Coverage Mapper collated independent mobile coverage data for the top 4 providers on the main road transport routes to Folkestone & Dover where on January 1st 2022, over 7,000 lorries were stranded post-Brexit. We thought we would check what mobile signal would be available for them as the driver queued for hours.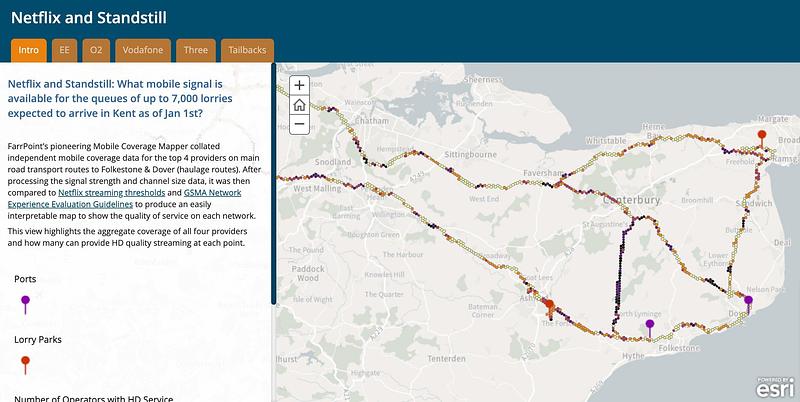 NC500 Map
Find out more about our Mobile Mapping North Coast 500 project where we published a new NC500 map that pairs beauty hotspots with 4G coverage not-spots to help holiday makers planning to take on Scotland's most well-known road trip adequately plan and prepare for the journey.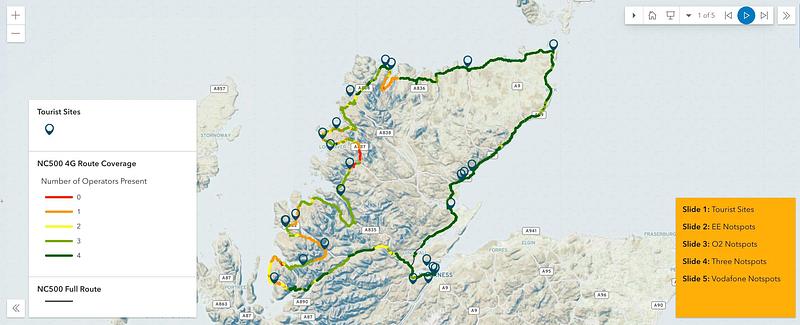 Read about more of our projects or get in touch to discuss how we could help you.